Mental Health UK's 12 Days to Christmas
This year we're launching Mental Health UK's very own Christmas countdown, the 12 Days to Christmas. From 13-25 December, the campaign will run on Instagram, with one new window opening each day. Join us for twelve sparkling days of festive advice, practical resources, mental health wisdoms and exciting giveaways!
12 days to go! Our tips for spreading Christmas cheer
Many of us are feeling the strain this Christmas with the cost-of-living crisis and other pressures, but there's still a chance to support our own mental health by injecting some festive cheer into the lives of those around us.
Here's what team Mental Health UK is getting up to over the next few weeks to bring joy this season!
11 days to go! A resource for social connections
Making social connections isn't easy for people living with mental health problems or mental illness. That's why we set up our peer support platform Clic – to enable people to chat to and get support from others who may be going through similar experiences. If you're struggling with your mental health sign up to Clic for free and become part of a non-judgmental and safe community.
10 days to go! A partner blog for inspiration
We've had some incredible fundraising events over the course of 2022 and one that stands out is our partner Exertis UK 'Ride to Exertis Almo' event – an initiative where staff peddled on bikes to reach a goal of 1,750 miles! Find out what Exertis UK have been up to so far in our partnership, and how their fundraising efforts have supported staff with both their physical and mental health.
9 days to go! A partner video for insight into their support
From offering mental health first aiders at work to providing staff access to support programmes, Exertis have taken practical steps to promote better mental health in their workplace. Watch their video to gain an insight into what good mental health means to them and how they're aiming to achieve this.
8 days to go! A handy resource
Wanting to create the perfect Christmas atmosphere and give memorable presents can feel like a weight on our minds during the festive season. If you're feeling the pinch, you might be worried about disappointing your family or friends, but it's good to remember that you're not alone. Take a look at some ways to save while importantly protecting your mental health too.
7 days to go! Take time to focus on you
Somewhere that you're able to unapologetically focus on you, a class with our friends at SoulCycle enables you to take time for yourself, whilst also welcoming a togetherness with others in the room.
Watch their video to see what they're all about, and the type of energy they bring to each class.
6 days to go! A fitness-boosting giveaway
Have you been looking to start something new in 2023 but want to test something out first? You're in luck! Our friends at SoulCycle London studios are giving away three bundles of x10 spinning classes for you to pedal your way into good wellbeing. Head to Instagram (@mhealthuk), follow us, like today's post and tag a friend in the comments before 4pm Tuesday 20 December.
5 days to go! Advice for navigating the festive period
Christmas can be a time of year when we're expected to be our merriest and most joyful. If you're not feeling that way it's okay – you're not alone. There are steps you can take to manage your mental health. Find out more about the emotions and stressors that can be intensified over this period in our blog on why Christmas isn't easy for everyone and how to cope.
4 days to go! Inspirational partner insight
When we come together with other organisations, we can go further in improving mental health support, breaking down stigma and supporting people to get the help they deserve. That's why this year we partnered with Dune London in an exciting partnership. Find out why mental health at work is important to them and take a peek at what they're doing to support it. Maybe you could borrow some ideas for yours or your loved ones' workplaces.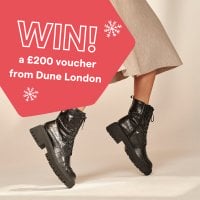 3 days to go! A fabulous footwear giveaway
As a little Christmas gift to you, our partner Dune London is giving away a generous £200 voucher to one lucky winner, to spend on any of their amazing products. Giving to others and engaging in self-care can all have a positive impact on our mental wellbeing. Head to Instagram (@mhealthuk), follow us, like today's post and tag a friend in the comments before 4pm Friday 23 December.
2 days to go! A pedal power giveaway
This Christmas, be in with a chance of winning a 'Peddle Step' electric bike from our partner Exertis worth £1,800! With a step-through aluminium frame and over £500 of features, it will help you to look after both your mental and physical health. Head to Instagram (@mhealthuk), follow us, like today's post and tag a friend in the comments before 9am Wednesday 28 December.
1 day to go! A guide to looking after our mental health at Christmas
Christmas time can be a stressful period of the year, but there's things you can do to look after your mental health and support other's to do the same. Download our guide on how to look after your mental health in the festive season and pass on to family or friends as a handy reminder this holiday period.
Merry Christmas!
From everyone here at Mental Health UK, we'd like to wish you all a Merry Christmas!
Can you support someone struggling with money?
If you're able to give this festive period, find out how your donation can help fund our Mental Health & Money Advice service and support people with their finances and mental health.