Christmas Advent 2021
Our festive advent calendar for 2021 is here! Join us for 25 days of festive themed wellbeing tips, activities and easy ways to fundraise for Mental Health UK!
Mental Health UK's 12 Days to Christmas
13-25 December
On Tuesday 13 December we launched our 12 Days to Christmas Advent Calendar. Join us for twelve days of tinsel-covered mental health tips, festive resources, wellbeing wisdoms and exciting giveaways!
Day 1. The Mental Health UK team's wellbeing tips
Today we've asked our colleagues Flora, Johnston, Jemima, Sophia and Anant to tell us what they'll be doing to protect their mental health and wellbeing throughout December which can be a high pressure time. Hopefully you can take some inspiration from them!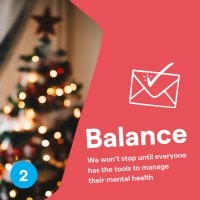 Day 2. Find your balance with Balance
Sign up to our newsletter, Balance, for regular wellbeing tips, insights into our work and updates on the impact you're making. From podcast series to blogs on managing stress or events that help tackle loneliness, there's something for everyone to get involved in!
Day 3. A festive giveaway!
Our partners A.G. Barr have donated a year's supply of their delicious IRN BRU XTRA drink to give away to one of our lucky supporters! For a chance to win, all you need to do is follow us on Instagram (@mhealthuk), like our Day 3 post and tag a friend before Sunday 5 December. We'll be in touch with the lucky winner on Monday.
Day 4. The Norwegian Formula Challenge
Physical and mental health go hand in hand, and in light of the last 18 months, it's become even more important that we make changes in our lives to support our wellbeing. The Norwegian Formula Explore More 10k challenge is a great way to get out, get active and support Mental Health UK.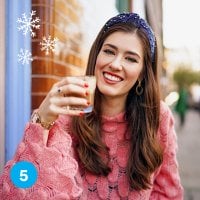 Day 5. A festive recipe
Behind today's window we've got a delicious brownie recipe from last year's Great British Bake-Off finalist, Alive Fevronia. Why not try out her unique recipe on a cosy afternoon? On your marks, get set, bake!
Day 6. Work wellbeing tips from Merkle
Introducing our gold sponsor for this year's advent calendar, Merkle, a leading performance marketing agency and one of our valued partners! They've put together an article showcasing
their brilliant ideas for integrating employee mental wellbeing, diversity, equity and inclusion into their core values at work.
Day 7. Amazon smile
If you're planning on using Amazon this December, did you know you can support Mental Health UK at no additional cost to you by using Amazon Smile? It's really easy to set up and we receive 0.5% of all eligible purchases as a donation, without paying a penny more!
Day 8. A wellbeing resource
The media portrays the festive season as a time of happiness, gifts and great company. This can make it even harder for those who find this time of year challenging. To help you manage, we've put together some top tips on how to look after yourself and others.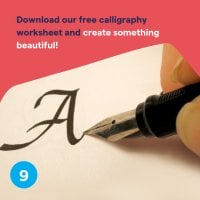 Day 9. A calligraphy guide
Try your hand at beautiful calligraphy with our easy worksheets. Why not host a Creative Connection event with friends and do something mindful and positive for your wellbeing? You could create lovely handmade Christmas cards, or name places for your Christmas dinner.
Day 10. A wellbeing resource
Open discussions about mental health are essential if we want to live in a society where we can bring our full selves to work, social and family interactions. The festive period could be a good time to have a conversation about mental health with the people around us. We have a handy conversation guide to help you approach the topic.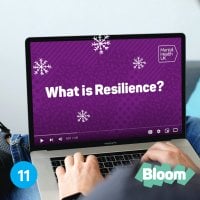 Day 11. A Bloom wellbeing resource
Since launching in September 2019, our young people's programme Bloom has supported over 110,000 students to better understand their own mental health and build resilience. Share our 'What is Resilience' animation with the young people in your lives.
Day 12. A wellbeing tip
Problems with sleep can affect how you feel physically and mentally, and how you feel can also affect how you sleep. It's recommended that adults need 6-8 hours of sleep per night, so do your best to get as much as you can over the festive period!
Day 13. A giveaway
Be in with a chance to win a limited edition series of greetings cards to send to a friend, family member or colleague in need of a pick-me-up. Head to Instagram (@mhealthuk), follow us, like today's post and tag a friend in the comments before noon Wednesday 15 December.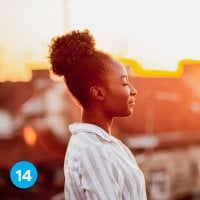 Day 14. A Wellbeing tip
Tis the season for social gatherings, parties and seeing friends, family and colleagues. It is OK to say no if you don't feel up for it or if you know it is going to burn you out!
Day 15. Give the gift of practical advice
This Christmas, thousands of people across the UK will find themselves overwhelmed by their money problems, and unable to cope with the impact it's having on their mental health. Support our Christmas appeal and help them today.
Day 16. Winter scavenger hunt
Download our winter scavenger hunt for a fun way to engage kids and get out and about!
Day 17. Our Vision winners!
Thanks to everyone who entered our photo competition Vision this year. Here is the winning photo by Thomas Griffiths.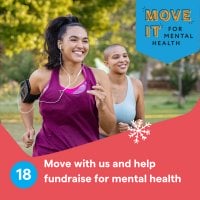 Day 18. A fundraising challenge
With health being front and centre of our minds at the moment, there's no better time to Move It for Mental Health and raise funds for those who need it most. So step up to the podium and choose an activity to take on for a month – be it deadlifts, running, cartwheels, you name it!
Day 19. Support around the clock
Contrary to what we see on social media, it's OK if you don't feel on top of everything or happy throughout Christmas. If you're experiencing emotional distress or need to speak to someone, you can call The Samaritans on 116 123 or connect with people on our online community Clic.
Day 20. A handy toolkit
Since launching in November 2017, our award winning Mental Health & Money Advice service has helped nearly 4,000 people to gain £13.6 million. Our free, downloadable toolkit was created to help you manage and improve your financial and mental health.
Day 21. A festive giveaway
This Christmas we're working with our friends at giffgaff to keep everyone connected. To be in with a chance to win a snazzy refurbished iPhone X, head to our Instagram post (@mhealthuk) and enter the competition before midday on 23 December. One entry per person. We'll be in touch with the winner.
Day 22. Send a virtual card
Have you forgotten to send your nearest and dearest a Christmas card before the last post? If that's you, don't worry! You can send your loved ones a special virtual card today, while saving the planet, and donating to Mental Health UK in the process.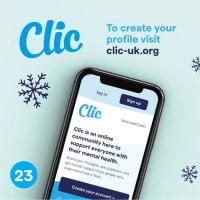 Day 23. Stay connected 24/7 with Clic
Clic is our online community which aims to tackle loneliness. The platform provides a safe and welcoming environment where its 8,000+ users can support each other's mental health through friendly chats and helpful resources. Thank you to our partners Skipton Building Society who know the importance of being connected and have donated £200,000 this winter – the equivalent to running Clic for 18 months!
Day 24. Festive wellbeing tips
Our partner Merkle's Diversity Equity and Inclusion group is made up of different pillars, including the Mental Health Pillar. With a lot of uncertainty and things around us changing rapidly, the need to prioritise our wellbeing has grown. Take inspiration from Rebekah, Ana, Lizzy, Neil and Ryan from the Mental Health Pillar who've shared useful self-care tips that you can put into practice this December.
Day 25. Merry Christmas
Merry Christmas and happy holidays from everyone here at Mental Health UK. Here's a snapshot of our colleagues wishing a very happy festive season to all of our followers, supporters, staff and friends. May 2022 be a bright year with good health, peace and happiness!
We need you!
Give the gift of clear, practical mental health and money support this Christmas