Photography & smartphones to help UK's youth fight back against lockdown stress
The Photography Movement Launch Show and Tell, an interactive mental health campaign for young people sponsored by Cisco.
Show and Tell is brought to you in partnership with Mental Health UK, EyeEm and Constance, supported by Getty Images and featuring world-famous photographer Rankin.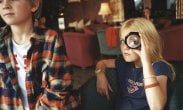 Mental health experts warning of fresh crisis as children enter schools to resume 'normal' life
Study* finds that 80% of young people feel their mental health has deteriorated since the pandemic began
The Show and Tell campaign will teach children and teenagers smartphone photography skills that support their own mental health
Photography is a proven therapeutic technique to combat anxiety and depression, it gives those who are struggling a reason to focus and another language through which to express how they're feeling. Emotions are sometimes hard to put into words, especially for young people
Four online workshops, created by The Photography Movement featuring iconic British photographer Rankin and leading photography experts launch online followed by two live feedback sessions powered by Cisco Webex, hosted by guest photographers and held exclusively for schools
Show and Tell makes Therapeutic Photography freely available to all 11-18-year olds
On September 9 The Photography Movement launch Show and Tell, an interactive campaign sponsored by Cisco, to help 11-18-year-olds tackle stress and anxiety through therapeutic photography, with guidance from professional photographers and an artistic director for health and wellbeing.
This Autumn, world-renowned British photographer Rankin along with EyeEm and Mental Health UK come together with The Photography Movement and Cisco to release four, free and one of a kind online phototherapy workshops full of stress-busting tips and tasks designed for 11-18-year olds. Getty Images will support the learning of visual literacy by supplying a selection of archive images as a tool.
It's hard to build a better 'new normal' for kids if we don't know how they are feeling, therefore Show & Tell respectfully asks the nation's 11-18-year-olds 'how are you feeling?' Select a word that defines how you are feeling and visualise this as a photograph'. In late November 2020, a selection of these photographs will be curated and showcased to faithfully represent the emotions of young people around the country
The four workshop films will run from September 7th to November 8th rolling out through participating schools while being available to all online. Live feedback sessions will also be hosted by guest photographers exclusively for schools, providing a chance for students and teachers to get expert feedback and tips in real-time. Powered by Cisco Webex technology, the sessions will encourage diversity of expression via the platform through collaboration and inclusivity.
Renowned British photographer Rankin, who has shot a host of international celebrities from Anthony Joshua to Madonna and even The Queen, comments, "If you're sometimes feeling a bit down or anxious, photos can help communicate in a way that can be hard to put into words. When I take photos, it can make me feel better. When I really focus it can stop me worrying, and we all feel like that sometimes."
The pandemic and national lockdown has seen the longest disruption to full-time education since the Second World War. Now, as restrictions begin to lift, there is new concern about children returning to the pressures of 'normal' life.
The level of uncertainty facing young people is having a profound impact on their wellbeing and mental health. The removal of traditional support systems like school, sports, socialising etc. paved the way for young people seeking different mediums to express their emotions and feelings. These should be encouraged, allowing young people to express themselves in ways they feel comfortable to them.
– Enda Egan, Head of Young People's Programme at Mental Health UK
For more information, visit the Show and Tell website,  YouTube channel  or Instagram.
#showandtellphoto
Your donation will make the difference
Just £10 could help pay for a call to our advice and information line, supporting someone living with mental illness who may be feeling in distress during this time.
Donate today
Join our newsletter
Sign up to our newsletter to keep up to date with our events and appeals. Click 'subscribe' to choose your contact preferences