Annan – Nursery Place Resource Centre
Nursery Place Resource Centre in Annan is a meeting place for people that experience mental illness, providing a friendly and relaxed atmosphere, a range of activities which includes lunches, games, days out etc. It provides everyone an opportunity to meet other people with similar lived experiences in a safe supported environment. 
The funding will be used to refresh this important space with furnishings, window blinds, indoor plants etc. Also, other centres will be redecorated across Dumfries and Galloway, to refresh and improve support and working environments for both service users and staff.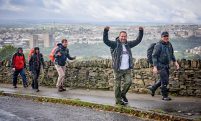 Helping Communities
Prosper in 2022
The pandemic has had a profound impact on mental health; millions of people will develop a mental health problem, or have seen their existing conditions worsen.
Our partnership with Lloyds Banking Group is helping us to deliver much needed mental health services to people and communities across the UK.