Ben Crom – gardening for better mental health
The Ben Crom service in Kilkeel caters for 12 older people experiencing frailty and/ or mental health issues. Each person has their own individual apartment but love to get together in the communal area and especially out in the garden when there is a blink of sunshine. The service users would love to have some garden furniture to enable them to enjoy the garden with each other and with their families and friends. Your fundraising will help them get this furniture, along with some equipment to help with the raised beds that service users would like to plant up to grow flowers and vegetables. Being active in the garden is important to them, and they take great pride in it. It also helps to reduce social isolation and loneliness, especially for those whose families live some distance away.
Nature and outdoors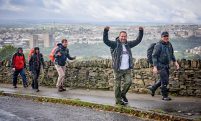 Helping Communities
Prosper in 2022
The pandemic has had a profound impact on mental health; millions of people will develop a mental health problem, or have seen their existing conditions worsen.
Our partnership with Lloyds Banking Group is helping us to deliver much needed mental health services to people and communities across the UK.