Building Bridges – reducing stigma and supporting Traveller communities
We will work with Gypsy, Roma and Irish Traveller communities across Birmingham to reduce mental health stigma and improve access to mental health support and services.
Traveller communities are marginalised and discriminated against and experience higher than average rates of suicide and mental health problems but lack access to support and services for a multitude of reasons. Although there is a lack of data on the impact of Covid-19 on Traveller communities, poor living conditions and close family networks mean that it is likely they have been disproportionately impacted.
The project will work closely with the communities to identify the most appropriate messages and means of intervention/support required. Key learnings will be identified which can be replicated with other Gypsy, Roma and Irish Traveller communities across the country.
Improving access to support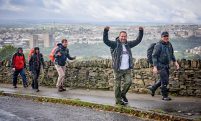 Helping Communities
Prosper in 2022
The pandemic has had a profound impact on mental health; millions of people will develop a mental health problem, or have seen their existing conditions worsen.
Our partnership with Lloyds Banking Group is helping us to deliver much needed mental health services to people and communities across the UK.