Carers' Cafes – supporting carers when a loved one is in crisis
Location: Monmouth, Wales
The Carers Café Project facilitates carers cafés on the mental health units across Gwent. This provides a first point of contact for families and carers whose loved ones have been admitted to the ward. Funds raised will ensure the cafés remain fully staffed and on hand to offer carers information and support at times of crisis, arrange meetings between ward staff and carers to facilitate communication and mutual understanding, and to act as an advocate to ensure the voice of the carer is heard.
Crisis support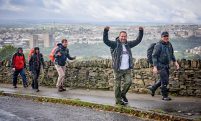 Helping Communities
Prosper in 2022
The pandemic has had a profound impact on mental health; millions of people will develop a mental health problem, or have seen their existing conditions worsen.
Our partnership with Lloyds Banking Group is helping us to deliver much needed mental health services to people and communities across the UK.