Champions House – supporting people recovering from addiction
Champions' House is a creative, active and supportive environment for people who have suffered from drug and alcohol addiction but are now actively seeking recovery. Champions' House has recently undergone a refurbishment, and your fundraising will enable a next stage of support by providing activities to run at the House. These will be things like beneficial support groups which continue to provide a mutual-aid community where everyone is looking towards a future without addiction.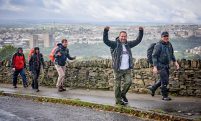 Helping Communities
Prosper in 2022
The pandemic has had a profound impact on mental health; millions of people will develop a mental health problem, or have seen their existing conditions worsen.
Our partnership with Lloyds Banking Group is helping us to deliver much needed mental health services to people and communities across the UK.