Companas Cottage – making a welcoming space for service users and staff
Companas Cottage is a resource centre in Alness. It offers support to people affected by mental ill health. There are a range of activities and opportunities available to support people to develop their skills, manage their mental health and recover. Peer support is also available, along with volunteer opportunities and a social hub for chatting and making friends.
The Resource Centre is a busy place, used by a mixture of service users, staff and volunteers, and the doors are back open and ready to welcome people back. The funds will be used to purchase new games and create a games room, to give service users a space where they can interact and socialise while having fun. Other equipment will also be purchased – air purifiers, so people feel safe when they are in the centre, and boost people's confidence in returning to the centre.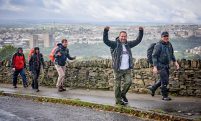 Helping Communities
Prosper in 2022
The pandemic has had a profound impact on mental health; millions of people will develop a mental health problem, or have seen their existing conditions worsen.
Our partnership with Lloyds Banking Group is helping us to deliver much needed mental health services to people and communities across the UK.