Creating a pleasant outdoor space to benefit people experiencing mental health problems
Fieldview is a crisis accommodation service for people experiencing mental health problems or mental illness. It provides support 24 hours a day, 7 days a week. Fieldview has a rather large garden space, but it's not being used to its full advantage. Your fundraising will enable Fieldview to transform their bland garden into a pleasant and appealing outdoor space, one that promotes wellbeing, enjoyment and socialisation for service users and staff. They will also be consulted on the design of the new outdoor space, providing ideas and suggestions for things they'd like out of the space.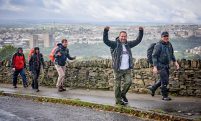 Helping Communities
Prosper in 2022
The pandemic has had a profound impact on mental health; millions of people will develop a mental health problem, or have seen their existing conditions worsen.
Our partnership with Lloyds Banking Group is helping us to deliver much needed mental health services to people and communities across the UK.