Downpatrick Resource Centre – a day trip for service users, carers and relatives
Downpatrick Resource centre is a day support service for adults over the age of 18 with enduring mental health needs, as well as carers and relatives. Before the pandemic, the centre would organise an annual trip, with the place chosen by service users – a trip up the Antrim coast, or to a place of interest. However, day trips have been cancelled for the past two years due to Covid-19. The funds you raise will allow this annual tradition to happen once again. It would provide for coach hire and food for the outing. Many service users have spent the past two years isolating, with little to no interaction with others. This day trip would be a fun, enjoyable way for service users to re-engage with others, develop friendships and improve their general wellbeing.
Building connections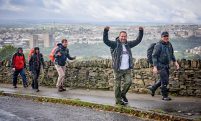 Helping Communities
Prosper in 2022
The pandemic has had a profound impact on mental health; millions of people will develop a mental health problem, or have seen their existing conditions worsen.
Our partnership with Lloyds Banking Group is helping us to deliver much needed mental health services to people and communities across the UK.