Downpatrick – Wise Talking
Wise Talking is a new therapeutic wellbeing service that aims to support young people aged 11-18 who have been struggling with their mental health as a result of the Covid-19 pandemic.  
Since Covid, there has been an increase in the number of young people in Northern Ireland presenting with anxiety disorders and depression, impacting on their education and learning, confidence, self-esteem and mood.  
It is important to intervene early and provide these young people with access to holistic counselling that includes Cognitive Behavioural Therapy and other techniques to provide them with the tools they need to better manage their mental health at a critical stage in their development. 
8 weekly sessions will be delivered to approximately 45 young people as a pilot project, establishing referral pathways with our existing young people's programmes (Bloom and Your Resilience) in Northern Ireland and building on our network of schools, sports clubs and other organisations that work with young people. 
This project aims to provide a unique intervention which will support young people of all abilities, particularly those who are need support but haven't engaged with traditional services. It will encourage them to recognise their own strengths and resilience and reduce levels of anxiety. This project will also reduce pressure on NHS waiting lists for psychological therapies and highlight an alternative approach to meeting the needs of young people post-Covid.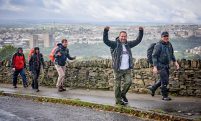 Helping Communities
Prosper in 2022
The pandemic has had a profound impact on mental health; millions of people will develop a mental health problem, or have seen their existing conditions worsen.
Our partnership with Lloyds Banking Group is helping us to deliver much needed mental health services to people and communities across the UK.