Gloucester Terrace – better living for people with serious mental illness
Location: Haverfordwest, Wales
Gloucester Terrace is a 24 hour Domiciliary Care project. It provides temporary supported housing designed to meet the needs of those who experience serious mental illness, have complex needs and require high levels of support. The project enables occupants to establish a safe stable home in the community and are supported to develop life skills to maximise opportunities for independent living and integration into the community.
The money awarded at Gloucester Terrace will help towards running costs in the house. It will also support individuals to take part in activities like trips into town, visits to local attractions, socialising with others and integrating back into the community. This will help them develop life skills and maximise opportunities for independent living.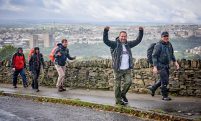 Helping Communities
Prosper in 2022
The pandemic has had a profound impact on mental health; millions of people will develop a mental health problem, or have seen their existing conditions worsen.
Our partnership with Lloyds Banking Group is helping us to deliver much needed mental health services to people and communities across the UK.