Cardiff – Growing Places – wellbeing through gardening
Growing Places is a horticulture therapy project based on the grounds of the National History Museum in St Fagans, Cardiff. The project supports people on their mental health recovery journey by giving them the opportunity to develop skills in gardening and horticulture. Funds raised will help towards running and maintaining the exceptional gardens on site, enabling service users to continue to reap the benefits of horticultural therapies.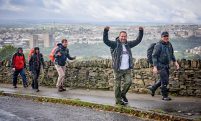 Helping Communities
Prosper in 2022
The pandemic has had a profound impact on mental health; millions of people will develop a mental health problem, or have seen their existing conditions worsen.
Our partnership with Lloyds Banking Group is helping us to deliver much needed mental health services to people and communities across the UK.