Kaleidoscope Resource Centre – creating a vibrant space for service users and staff
Kaleidoscope Resource Centre is close to Dumfries town centre. It offers a meeting place for people affected by mental illness to socialise, take part in activities, learn new skills and improve their confidence and well-being.
Your fundraising has enabled staff and service users to refresh and improve the look of the centre to make it a more vibrant, attractive, and welcoming space. Staff and service users have worked together to paint the communal areas with service users involved in paint and colour choices. New plants have also been purchased to bring some green life to the building too.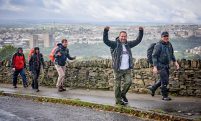 Helping Communities
Prosper in 2022
The pandemic has had a profound impact on mental health; millions of people will develop a mental health problem, or have seen their existing conditions worsen.
Our partnership with Lloyds Banking Group is helping us to deliver much needed mental health services to people and communities across the UK.