Leek – community cafe
John Hall Gardens is a small cottage with a large kitchen and detached conservatory next door to the public park in Leek, Staffordshire. For a number of years, Rethink Mental Illness have used the space to deliver 1-2-1 support to people living with mental health problems. They now want to establish a new social enterprise at the heart of the community. The idea is to establish a café and garden where service users can connect with nature, as well as gaining vital employment skills in catering and horticulture through running the café and garden centre business. John Hall Gardens Community Cafe will provide a safe, friendly space that everyone can enjoy, providing people with the opportunity to work, learn and socialise together in a supportive environment.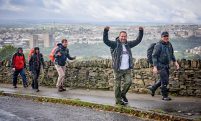 Helping Communities
Prosper in 2022
The pandemic has had a profound impact on mental health; millions of people will develop a mental health problem, or have seen their existing conditions worsen.
Our partnership with Lloyds Banking Group is helping us to deliver much needed mental health services to people and communities across the UK.