Seek Support – Mental health awareness and outreach in Edinburgh
We're aiming to launch a city-wide outreach programme with partners such as Lothian Buses and Network Rail that raises awareness and encourages people experiencing PTSD and serious mental health problems as a result of the Covid-19 pandemic to seek support.
The project is in response to an increase in the number of referrals to our services from healthcare providers and will be specifically targeted at men and boys who are least likely to engage with services.
This project will link into existing services provided by Mental Health UK and our Scottish partner Change Mental Health which will continue to run and offer support across Edinburgh post-intervention.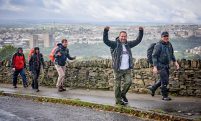 Helping Communities
Prosper in 2022
The pandemic has had a profound impact on mental health; millions of people will develop a mental health problem, or have seen their existing conditions worsen.
Our partnership with Lloyds Banking Group is helping us to deliver much needed mental health services to people and communities across the UK.