Supporting carers' and veterans' mental health
The Oxford Carers Support is a service for people who care for somebody with a mental illness. The team, which includes volunteers and senior mental health recovery workers, supports unpaid carers through activities like support groups and mental health training. This is a highly specialised team doing important work to support carers who have an invaluable role in helping people recover from mental illness. Fundraising will enable this growing team to improve how it operates. With the addition of new staff and volunteers over the past 18 months, a team Away Day would help to nurture team spirit and encourage reflection on change.
The team will also use any surplus funds to promote the Veteran Peer Support service, a programme delivered by military veterans who have awareness of the military culture and the mental health problems veterans can experience upon leaving military life. Promoting the service can grow its reach, so more veterans can access support.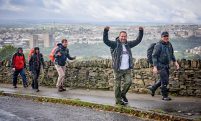 Helping Communities
Prosper in 2022
The pandemic has had a profound impact on mental health; millions of people will develop a mental health problem, or have seen their existing conditions worsen.
Our partnership with Lloyds Banking Group is helping us to deliver much needed mental health services to people and communities across the UK.