Wilton Road – creating an outdoor wellbeing space for residents to enjoy
Wilton Road is a residential home for people who have experienced long-term mental illness and require round-the-clock support. At the moment, residents, their family, staff and visiting professionals use a vacant downstairs room as a wellbeing room. It is a much-beloved space for relaxing, socialisation, meetings. However, with the growth of the service, the space will soon be unavailable. So the funds you raise will help Wilton Road to create a new wellbeing space in the garden, and the positive impact of having such a space for residents, staff and others carries on!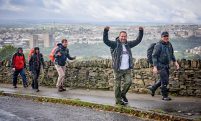 Helping Communities
Prosper in 2022
The pandemic has had a profound impact on mental health; millions of people will develop a mental health problem, or have seen their existing conditions worsen.
Our partnership with Lloyds Banking Group is helping us to deliver much needed mental health services to people and communities across the UK.