Projects across Greater London
- more coming soon!
Are you ready to support mental health in London?
Sign up for an Epic Year Event
Choose from UK-wide Epic Year events from cycling, to skydiving there's something for everyone
Have an idea? Or want to get involved as a team?
Get in touch with the partnership team who can help you get your own event started
Fundraising tips and ideas
Get the most from your fundraising with our handy guide
Project Updates
We'll be updating this page over the year so check back soon!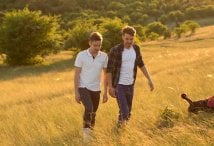 Brent and Harrow get active!
August 2022
30 clients from our services in Brent and Harrow are engaging with the Get Active project currently. All have undergone a physical activity and movement assessment with the Physical Health Navigator employed by the project and have been given exercise plans to follow to get them moving and more active.
Thanks to the relationships built by the Navigator, the clients have access to classes and groups in local leisure centres and have also been supported to take part in different exercise classes that happen in the community. They are also being supported by the Navigator with 1-2-1 or group sessions in local outdoor spaces and community facilities.
As part of this project, Nottingham Trent University will be carrying out an evaluation, assessing the impact of the project on participants. Early feedback is showing that people appreciate the opportunities to take part in new activities and are being more confident and motivated to look after their physical wellbeing.
Get Active project update
March 2022
I'm Luke and I'm the Lead Physical Activities Navigator on the Get Active project. I cover 5 boroughs of London and aim to engage mental health service users and their carers in some element of physical activity. You know how physical and mental health are linked, and right now, I'm doing a lot of research and investigation to understand what people want and need in terms of physical activity, as well as what facilities are already out there. I believe this is an important step before setting up physical activity programmes and groups.
Once I've done this, I'll be organising physical activity groups such as walking, circuit training, jogging and yoga groups for example. I also will be offering one-to-one support to people who need it. I'll be sharing more with you as the project progresses, including the impact of physical activity on people's mental health. Do check back again for updates from me!