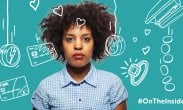 How does it really feel on the inside?
Take our interactive quiz
Take our interactive myth-busting quiz to test your knowledge and challenge your preconceptions of mental illness.
This site outlines 6 of the most common mental health conditions as well as where to seek support. Read real people's stories to learn about mental illness, and feel more comfortable in starting conversations about mental health.
Visit the Truths website