Bloom Teacher Network Launch Event
We'd love for you to join our launch event on Wednesday 17 November from 6pm-7pm. The event will feature a panel discussion led by Mental Health UK's Head of Young People's programmes, Enda Egan, who will host the session with an education specialist, a teacher who has first-hand experience delivering Bloom to their students and one of our Bloom trainers who has delivered extensively both remotely and in face-to-face settings.
This event will take place virtually on Zoom.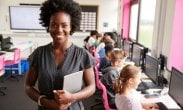 Who is this event for?
This launch event is for pastoral and teaching staff within schools (we will offer an event for college staff separately at the start of the Spring Term).
Click here to register your place