Kindness Challenge
There are a lot of things we can have too much of in life – video calls, streaming TV, chocolate – but we can never have too much kindness in our lives. Take on our challenge today by expressing kindness to yourself and those around you!
Over the past few years, our lives may have changed dramatically.
It's incredibly important to be kind to ourselves, through self-acceptance of all that we are, just the way we are. But it's equally important to cultivate kindness around us, by supporting others in our communities. Now more than ever, small acts of kindness can go a long way.
We're inviting you to take part in our Kindness Challenge by expressing kindness to yourself and those around you!
Here's how you can take part:
Save the kindness bingo grid to your smartphone or computer (download it in a variety of formats below)
Highlight each task as you complete it (by editing the image on your social media app or on an editing tool like Paint)
Share it on social media alongside pictures of you completing the tasks to show others how they can spread kindness too!
Tag Mental Health UK  and use #KindnessChallenge when you post on social media (using @mhealthuk on Instagram and Facebook or @mentalhealthuk on Twitter and LinkedIn)
Nominate your friends to take part in the Kindness Challenge by tagging them too!
Download the Kindness Challenge images
Instagram or Facebook story graphic
Instagram post #1 graphic
Instagram post #2 graphic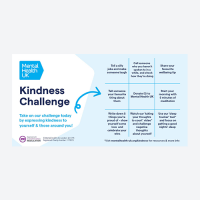 Twitter post graphic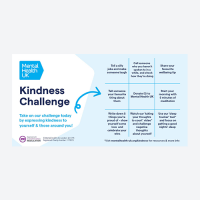 Facebook post graphic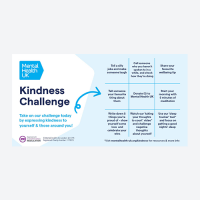 LinkedIn post graphic
Channel out negative thoughts
Negative thinking can lead to feeling stressed, which can prevent us from performing our best at work or in other walks of life. Taking your thoughts to court is a simple, yet effective, exercise taught in cognitive behavioural therapy (CBT) to help you address negative thinking. Our simple video helps you to learn this technique and put it into practice.
Download our sleep tracker
If you're worried about your sleep, keeping a sleep diary can help. Use our tracker to note how much sleep you're getting and the quality of it. After 1 week, visit our sleep advice pages to see what your results mean and for tips and ideas to help you improve your sleep.