Projects across Northern Ireland
- more coming soon!
Are you ready to support mental health in Northern Ireland?
Sign up for an Epic Year Event
Choose from UK-wide Epic Year events from cycling, to skydiving there's something for everyone
Have an idea? Or want to get involved as a team?
Get in touch with the partnership team who can help you get your own event started
Fundraising tips and ideas
Get the most from your fundraising with our handy guide
Projects across Northern Ireland
Project Updates
We'll be updating this page over the year so check back soon!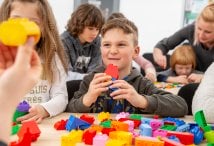 Building blocks for strong foundations
May 2022
Beyond Bricks uses Lego-based play and interactive workshops to support primary school pupils to discover new skills which will enable them to recover from the pandemic, and enhance their overall mental health and wellbeing, now and in the future. MindWise, our partner in Northern Ireland, has developed and is delivering the project.
Interest in the Beyond Bricks project has been phenomenal with more than 60 enquiries received from schools following a recruitment call posted online.
The training programme, materials and workbooks have been designed and printed with staff and associates from MindWise trained to deliver the programme in schools. 20 participating schools in Belfast have been selected and 7 will start the programme in May, to complete before the summer holidays. The remaining 13 schools swill start the programme in September.
With such interest in the project, MindWise have secured additional funding from another organisation to deliver the Beyond Bricks project in schools outside of Belfast.