Our ambassadors
We are proud that the first ambassadors of Mental Health UK are Jonny Benjamin MBE and Neil Laybourn.
Jonny Benjamin MBE
Jonny Benjamin MBE is an award-winning campaigner. He was diagnosed with schizoaffective disorder aged 20 and began making YouTube films about the condition.
He now speaks publicly about living with mental illness and has produced and presented mental health documentaries on BBC Three and Channel 4. These include The Stranger On The Bridge, covering his viral campaign with Mental Health UK founding charity Rethink Mental Illness to #findMike, the man who talked him out of jumping off a bridge when he was suicidal.
In 2018, Jonny wrote a memoir, also called The Stranger On The Bridge, exploring his early life and his work as a campaigner. His second book, The Book Of Hope, is a collection of quotes, poems and stories by Jonny and others, to inspire recovery and hope, and is due for publication in 2020.
Neil Laybourn
Neil is a highly sought-after health and wellbeing public speaker, who has delivered talks and seminars to hundreds of well-known organisations worldwide.
Neil's passion for mental health stems from his experience of instigating a suicide intervention in 2008. Six years later, Rethink Mental Illness reunited Neil 'the stranger' whose life he had saved, Jonny Benjamin, and they have remained firm friends. Neil's role was recognised through a Pride of Britain award, and in 2015 Channel 4 told this story in the award-winning documentary 'The Stranger on the Bridge'.
Since then Neil has moved from running his own personal training business to becoming a fulltime mental health advocate and founding workplace mental health conference 'This Can Happen'. Neil's involvement with Heads Together led to the conference receiving support from HRH The Duke of Cambridge.
---
Your donation will make the difference
£5 could help us to update our COVID-19 information hub with essential information to help people who may be feeling anxious or isolated to manage their mental health.
£10 could pay for a call to our advice and information line, supporting someone living with mental illness who may be feeling in distress during this time.
£20 could enable someone experiencing a mental health problem to access our online support community, Clic, where they can connect to others in a safe environment.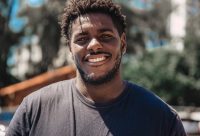 £30 could allow us to promote an online support group on social media, connecting people who are feeling isolated and may be experiencing mental health problems for the first time.
£50 could contribute towards helping someone living with money and mental health problems with personalised advice and support through our Mental Health and Money Advice Service.