The stress bucket
Healthy levels of stress can help push us, but sometimes it makes us feel like we can't do anything at all. This simple tool helps us to think about ways we can release stress.
Wellbeing Plan
Use our Wellbeing Plan as a tool to help you identify what good wellbeing looks like for you, as well as what it looks like when things aren't so good.
5 top tips for mental wellbeing
Looking after our mental health is just as important as our physical health. This document has 5 simple ideas to help improve our mental wellbeing.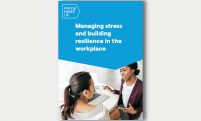 Managing stress and building resilience
Mentally healthy workplaces are everyone's business. This short guide shares practical tips for coping with stress yourself, and also as a manager. 
Mental Health Awareness Posters
Download our posters to use in your workplace to help raise awareness of mental health in the workplace.
Workplace mental health pack
Raise awareness of mental health in the workplace while providing signposting support to those looking for more help and information.