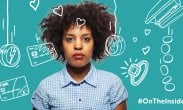 The outcome
We developed a new mental health information guide called 'How Does it Really Feel on the Inside?' and an interactive website. It outlines 6 of the most common mental health conditions as well as where to seek support.
The information uses real people's stories to help increase understanding about mental illness, as well as reducing the stigma attached to talking about mental health. The website has an interactive myth-busting quiz to test people's knowledge and challenge the user's preconceptions.
To date, we have distributed over 700,000 guides through GP surgeries waiting rooms and first-year university students with an estimated reach of over 5.4 million people. GPs were also given training on how to best use the guide in their surgeries.