Creative Fundraising
You don't have to sign up for a marathon or trek mountains to raise money for us. There are many ways to fundraise, whether you like music, a good old pub quiz, challenging yourself in the comfort of your own living room, or socialising with friends, there's a way for everyone to get involved and help support the nation's mental health.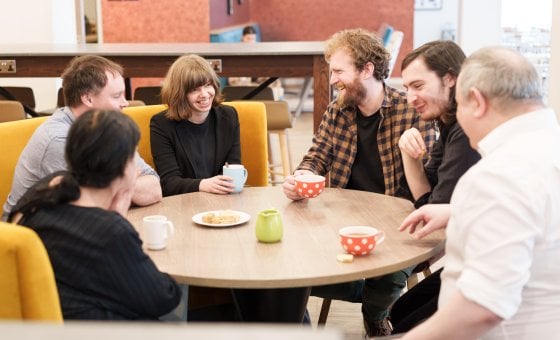 Fundraising ideas
We've put together some inspiration, packed with our top fundraising ideas. Remember, you can fundraise in any way you like. If you have an idea that isn't below, we would still love to hear from you!
Get rockin'
Do you love music and getting friends and family together? Whether you're in a band or know of a local group, hosting a gig night with entry fees as donations is an ideal way to get your community together and feel good with music and dance.
Create and sell
Like to get crafty? Be it card making, origami, knitting or baking, it not only feels great and gives us a boost to get creative but by simply asking friends and family for a donation in return for what you produce, can help Mental Health UK too.
Host a quiz night
Love being taskmaster? Host a quiz night at home or at your local pub and ask for an entry fee donation for the cause. If you can't get everyone together, Zoom quizzes are still a great way to have fun and get testing your general knowledge!
Birthday fundraising
Asking for donations instead of presents for your birthday is not only a great way to help the environment, but a simple way to support the charity too, be it setting up your fundraising event on Facebook or asking for cash.
Coffee and cake
A traditional coffee morning whether its with colleagues, neighbours or friends is still a great way to get chatting and bring people together. Sell a couple of cakes or ask for donations to attend, and enjoy some delicious treats!
Gaming marathon
By organising your own streaming event or playing a marathon of your favourite game whilst fundraising for Mental Health UK, you'll be able to game knowing you're helping others whilst having fun. Sign up for events like Reset and get started.
Host a Big Get Together
It really can be as simple as having a bbq, hosting a brunch or enjoying an afternoon tea with friends. Get together and get fundraising with friends by creating your own Big Mental Health Get Together, the opportunities are endless.
Join a Facebook challenge
We're often hosting Facebook challenges! Simply join a group, chat to others, order your free t-shirt and fundraise by taking on a challenge from the comfort of your own living room. Our latest challenge is 100 squats a day in June.
Take the plunge
Is there a challenge you're ready to take on? Need some motivation? Asking for sponsors prior to taking on a new challenge be it cage diving, sky diving, shaving your head or growing your beard, fundraise and have an adventure at the same time.
Don't forget to
Download our Fundraising Guide
We've put together a helpful fundraising guide filled with tips and advice to help you get the most out of your fundraising event!
Our guide to fundraising has all the information you need on how to fundraise.
If you're planning on holding a collection, please contact the team at [email protected] advising when/where you would like to hold your collection. Please note it is illegal to carry out a public collection without a valid licence from the local authority. We can provide you with a letter for you to send them to apply for this authorisation. If you are collecting on private land, you must have the owner's permission.
Browse our range of posters, bunting, and promotional free materials to download for you to download.
Get decorating in Mental Health UK colours, whether it's your local village hall, your living room or a friend's back garden, there's plenty of ways to make your event look on theme and colourful!
Please go to www.justgiving.com and search for Mental Health UK, Registered Charity no. 1170815 to fundraise online. Simply set up your page with the details of your event or challenge and share it with your friends, family and colleagues.
If you have any queries or need any assistance in setting up your online fundraising page, please drop us a message at [email protected]
If you've made a physical collection from a fundraising event, there are several ways you can pay in your collection. Wether it's a payment over the phone, sending in a cheque or an online transfer, we have all the information you need on how to pay in your donations. Simply visit our paying in fundraising money page to find out how to get started.
Your efforts and support help us in our mission to enable everyone to have the tools they need to live their best possible lives, and we're beyond thankful to every single person who spends time fundraising for us.