Smoking and mental health
Smoking can impact your mental health. Find out how smoking and mental health are related, and how you can manage your mental health when quitting.
Research published by the World Health Organisation in 2021 revealed that smoking tobacco makes it more likely for you to develop a mental health condition. In addition, people who live with a mental illness are twice as likely to use tobacco.
Tragically, smokers who experience mental health problems die on average 10-20 years earlier than those who don't.
How does smoking affect your mental health?
We're aware of the physical problems smoking causes, but what about the relationship between smoking and mental health.
Tobacco increases mental illness symptoms such as:
– Depression
– Anxiety and stress
– Psychiatric symptoms
– Attention Deficit Hyperactivity Disorder (ADHD)
Tobacco can reduce the effectiveness of mental health medications
People with poor mental health are at a higher risk of smoking and becoming addicted to nicotine:
– People living with schizophrenia are three times more likely to smoke than other people
Quitting smoking can improve your mental health
There are many myths people believe about smoking and how it affects your mental health. Below are some of the most common examples - expand each box to learn the facts that counter these myths.
Fact: Quitting smoking has the following effects:
Reduces levels of depression
Reduces levels of anxiety
Enhances mood
Improves ADHD symptoms
Fact: Smokers with mental health conditions can quit with the right support including:
Pharmacological interventions
Psychiatric support including therapy and/or medication
Friend and familial support
Fact: Smokers living with mental health conditions can experience increased psychiatric symptoms, compared to non-smokers.
Fact: If you quit smoking, many mental health medication doses can be reduced. Certain antipsychotic medications can be reduced by up to 25%.
Get support along your quitting journey
We know stopping smoking can be difficult for many people. Join our dedicated peer-to-peer support community for quitting smoking on Clic, and share and receive advice and tips from others!
How do I manage my mental health when I quit smoking?
Quitting smoking can be challenging regardless of your mental health condition. The good news is that you can quit when living with a mental health condition.
Here are some practical examples of what you can do to look after your mental health when you quit smoking.
Before you quit
Talk to your GP or Approved Mental Health Professional (AMHP) before you attempt to stop smoking.
Any mental health medications you are taking will need to be monitored and might even be reduced.
 Talk to an NHS Stop Smoking expert
This is a free service offered by the NHS. They can help you by discussing:
– Which 'stop smoking' aids might work best for you.
– Coping with nicotine cravings.
– Stop-Smoking medicines.
– Any mental health medications you are taking. They will ask you to see your GP or AMHP if you have not done so already.
Make a plan to quit smoking
Now that you have spoken to healthcare professionals, you can start making your plan to quit smoking whilst looking after your mental health. Download a free Personal Quit plan from the NHS Stop Smoking Service here.
Make a list of reasons to quit
Understand why you want to quit smoking. Make a list of the reasons why and read it when you need support.
 Identify when you crave cigarettes and what specific situations may be more challenging
– A craving can last five minutes. Before you give up, make a list of five-minute coping strategies.
– Think ahead to times when you were more likely to smoke. Parties, work and other social events can be a temptation to smoke. Think about your actions and how you will respond in advance.
Talk to a trusted person about your challenge.
– Quitting smoking whilst living with a mental health condition may feel overwhelming, but you can talk to someone you trust to help you with emotional support.
– Talking things through will help keep you on track and make things easier.
– Join our free dedicated online peer-to-peer support community for quitting smoking on Clic.
Get moving
– Scientific studies have proved exercise, even a 5-minute walk or stretch, can reduce cigarette cravings and may help your brain produce anti-craving chemicals.
When you quit
Don't feel discouraged if you find it hard at first. Smoking is highly addictive. Quitting with a mental health condition is a great achievement and you can do it. Here are some things to think about when you quit.
Don't punish yourself if you crave cigarettes.
If you feel stressed, and you would usually smoke at this time, instead download our free stress bucket method guide.
Remember to talk regularly with a trusted person and join our online peer-to-peer support community for quitting smoking on Clic.
Ask for help when you need it.
Imagine how it will feel when you've beaten the smoking addiction.
Call the Stop Smoking Helpline if you feel yourself reaching for a cigarette.
– The Stop Smoking service is available Monday to Friday from 9am to 8pm and Saturday and Sunday from 11am to 4pm. You can call them on 0300 123 1044.
Resources and further reading
Quitting smoking: leaflet
A brief guide to help you understand the effects of smoking on your mind and body, and the support on offer to help you quit!
The impact of quitting smoking on my mental health - Kim's story
Quitting smoking can provide benefits to mental health as well as physical health. The journey of quitting can be daunting and bring up feelings of anxiety and fear. We spoke to Kim who explained to us how she quit smoking, and the positive changes the move had on her mental health.
The Stress bucket
Healthy levels of stress can help push us, but sometimes it makes us feel like we can't do anything at all. This simple tool helps us to think about ways we can release stress.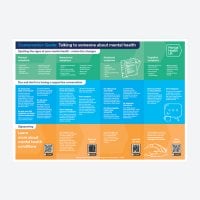 Conversation Guide: talking to someone about mental health
It can be tricky to know how to have that first chat about mental health, or to find the 'right' words once you do. This resource is to support with exactly that. We also have a mobile-friendly and printer-friendly version.