Mental Health Awareness Week
Mental Health Awareness Week takes place from 10 to 16 May 2021. This year, we're inviting you to immerse yourself in the '5 Ways to Wellbeing', while reconnecting with nature across the week.
The '5 Ways to Wellbeing' are a set of pillars which are key to improving our mental health. Modelled by the New Economics Foundation, they're geared around themes of social connectedness, physical activity, awareness, learning, and giving.
Across the week, join us by building in some small yet effective activities into your daily lives to feel more positive and able to get the most out of life!
The Five Ways to Wellbeing are:
Connect
Connection is about relating to one and other and feeling understood. Speak to the people in your life, be it friends, family, colleagues or neighbours. Build new connections to expand your circles – this could be at work, school or in your local community. Think of these as the cornerstones of your life and invest time in developing them. Developing these connections will support and enrich you every day.
How can I learn more?
Connect with others on Clic
We believe that no one should be lonely or isolated. That's why we set up Clic – our online community here for everyone's mental health 24/7. Clic helps thousands of people feel more connected and less alone. By offering resources and facilitating a safe environment where people can chat online, Clic gives users the tools to not just manage their mental health, but to thrive too.
How can I support?
Help people get the advice they need
Did you know that £10 could help towards the cost of a call to our advice and information line? Fundraising for Mental Health UK is a great way to help us be there for people looking for mental health support during a time of need. But it's not all about running marathons – we've been blown away by stories of people who've found creative ways to fundraise for us while keeping safe during the pandemic.
How can I help at work?
Get talking!
Starting a conversation about someone's wellbeing can be difficult. Below are some pointers about how you might approach a colleague at work if you're worried about them. With an empathetic and non-judgmental outlook, and a few open questions up your sleeves, you can create the right moment to talk. These tips apply if you are working from home too.
Be Active
Engaging in regular physical activity is known to go hand in hand with lower rates of depression and anxiety across all age groups. Not everyone needs to be a fitness fanatic to boost your wellness through activity. Simply step outside, exercise your green fingers or organise a games night. You could go for a walk or run, cycle or dance. Exercise releases hormones that make you feel good. Most importantly, being active is about discovering a physical activity you enjoy and that suits your level of mobility and fitness.
How can I learn more?
Find out the benefits of being active
Did you know people who take part in regular physical activity have up to a 30% lower risk of depression? Exercise is proven to have a hugely positive impact on the quality of life of people affected by mental health problems – it can improve our mood, ease stress, reduce anger, alleviate anxiety and slow cognitive decline. It is also known to help us sleep better and build confidence.
How can I support?
Take our Step by Step challenge!
Take steps to support your wellbeing and help us do the same for the rest of the nation. Step by Step is our walking challenge, aiming to get everyone moving in May. Choose a date and a distance, get a team together, get sponsored and get outside! Whether taking steps for your own wellbeing or simply to encourage others to do the same, we'd love you to join.
How can I help at work?
Step out of the office with colleagues
Who says your friends and family get to have all the fun? Mobilise your colleagues to get involved in our Step by Step walking challenge during Mental Health Awareness Week too! It's a great way to encourage everyone to be active and embrace nature and the environment, by heading outside on your lunch break or having 'walking meetings' during the week.
Take notice
Take stock of your surroundings, be curious, catch sight of the beautiful. Being in a state of 'mindfulness' has been shown to be associated with a positive mental state. Greater awareness of the world around us helps us see the unusual and notice simple pleasures like the changing seasons. Savour the moment, whether you're walking to work, eating lunch or talking to friends. Be present to your feelings and environment. Reflecting on your experiences will help you appreciate what matters to you.
How can I learn more?
Take notice of the woods
Our friends at the Woodland Trust know a thing about nature and the benefits that getting into the wild can have for our mental health. They've kindly shared their 'Find a wood' tool with us, making it easier for us all to find a wooded trail near us without having to venture too far from our own postcodes. And you may even be able to discover some spring wildlife in your new local spot.
How can I support?
Share your story to our Covid Capsule
Storytelling is a powerful tool in helping us to better understand and manage our mental health. But many future generations won't 'see' what we've experienced during the pandemic but could learn a lot from our collective sacrifices and resilience. That's why we're inviting you to archive your stories in our Covid Capsule today, for us to look back and grow from.
How can I help at work?
Take note of our free webinars
Our 'How to…' webinars explore a variety of topics, from young people's mental health support to wellbeing in the workplace. For each session you'll hear from our very own in-house experts at Mental Health UK, who'll share solutions to some commonly-faced challenges, and discuss the role that positive environments and techniques can play in overcoming these.
Keep learning
Learning something new is good for your brain and often exciting for the learner. Trying something different, rediscovering an old interest or signing up for that course you've always wanted to do can also improve our confidence and widen our skillset. Take on a new responsibility at work, do some arts and crafts or pick up an untried recipe. The challenge and enjoyment of learning new things gives a sense of fulfilment that is second to none.
How can I learn more?
Our info pages - a good place to start!
If you're completely new to mental health and looking to learn more, our online advice pages are a great place to start your journey. You can access a variety of information to help you manage your mental health and wellbeing or support someone you know. You can also learn about the work we do across the UK via our four national charities, and through online services.
How can I support?
Get creative!
Even if you don't see yourself as a creative person, research has shown that getting creative and learning a new skill can help improve your mental wellbeing. In May, we're launching 'Creative Connection' – a new interactive event where you can get involved with some arts and crafts while fundraising for us. So have your glue and scissors at the ready!
How can I help at work?
Train with us!
Educating workplaces creates an open culture and helps break the stigma associated with mental health. Mental health training is just one of the ways we're changing the experience of living with poor mental health across the UK. Our courses provide organisations with tools and support to improve mental health at work and make it as front of mind as physical health.
Give
Giving encapsulates many things – from showing goodwill and generosity of spirit to giving presents and giving up our time. Evidence suggests that 'giving back' or helping others promotes wellbeing for all ages. Why not do something nice for a friend, or a stranger. Thank someone. You could even volunteer your time with a charity or join an online community to give and receive peer support in equal measure. The key to giving is to look outwards, as well as inwards. Seeing yourself, and your happiness, linked to the wider community can be incredibly rewarding and creates connections with the people around you.
How can I learn more?
Give peer support on Clic
It can be daunting to reach out to friends, family or even healthcare professionals when you're living with a mental health problem. So we built a safe online environment to help with this where possible. Clic is moderated 24/7 by trained volunteers giving their time to keep the site safe, but it's also boosted by a community of users giving peer support and advice to each other.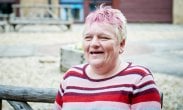 How can I support?
Give a donation
Your donations help us to reach more people affected by poor mental health with advice, support and information, making a real impact on their lives. Individual giving enables us improve access to support groups across the UK, run our Mental Health and Money Service and provide access to information, such as our mental health information guides. Your generosity goes far!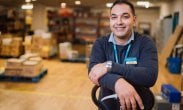 How can I help at work?
Become a valued charity partner
From charity of the year partnerships, colleague fundraising and volunteering, through to payroll giving and cause-related marketing – there are plenty of ways we work with organisations to promote good mental health and reach more people. However you choose to support Mental Health UK, you'll help us make a huge difference to people's lives.
5 Ways to Wellbeing flyer
5 Ways to Wellbeing email signature
5 Ways to Wellbeing - social media tile (square)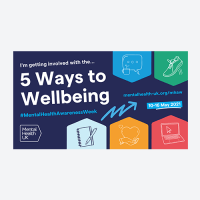 5 Ways to Wellbeing - social media tile (landscape)
Mental Health Awareness Week video call background
Paul Cummins Tulip activity
Tulips video call background