World Mental Health Day 2021
World Mental Health Day is happening on Sunday 10 October. This year, we're asking you to join us as we move forward together, for mental health.
Forward Together for Mental Health
Mental Health UK has partnered with ITN Productions to create a unique news programme for World Mental Health Day.
'Forward Together for Mental Health' explores how the crisis has advanced the mental health narrative and agenda in the workplace and wider society. Our programme also looks at the people and projects safeguarding emotional wellbeing across the UK and the necessary support in place to help those experiencing a mental health problem.
'Forward Together for Mental Health' is available to watch on our YouTube channel.
What's your unique contribution?
The official theme for this year's event is 'Mental Health in an Unequal World', as set by the World Federation for Mental Health.
Mental health is a vital national issue at the best of times, but the need for meaningful support in the community has become even more relevant as we've navigated the challenges of the pandemic.
We want you to watch Forward Together for Mental Health, share it far and wide, and make a commitment about the role you can play in supporting people around you who are affected by poor mental health – whether it's a friend, family member, colleague or a neighbour. Each pledge counts.
Our questions to you are simple:
What's the world you want to see?
What's the unique contribution you can make to turn that world into a reality?
Other ways to support this World Mental Health Day:
As we face a national mental health crisis, your support is needed now more than ever. We won't stop until everyone has the tools to manage their mental health – and there are a number of ways you could join us.
The Big Mental Health Get Together
1 in 4 of us will experience a mental health problem each year. That could be a family member, a friend, a colleague, or it could be you. The Big Mental Health Get Together is all about creating a supportive environment for people to reconnect and to talk about mental health if they want to. It can be a picnic in the park, a coffee and cake break with colleagues, a book club, or a full-blown party to celebrate being able to connect with others again.
Become a regular giver
By giving a regular gift to Mental Health UK, we can grow our capacity and support many more people like Lois – who recently joined our Adferiad recovery group in Wrexham as part of her Universal Credit Kickstart placement. Or your donation could help someone like Sarah – who received  1-2-1 home check ins, support groups as well as weekly drop-ins from our Mum's Wellness Project, which helps mums with infants under two years and their families manage and overcome post-natal depression.
Create change in your workplace
From charity of the year partnerships, colleague fundraising and volunteering, through to payroll giving and cause-related marketing – there are plenty of ways we work with organisations to promote good mental health and reach more people. However you choose to work with us , you'll help us make a huge difference to people's lives.
Mental health conditions
If you or someone you know has been diagnosed with a mental health condition you may be looking for more information. Our advice pages are a great place to learn more about a range of mental health conditions and the treatment and support available.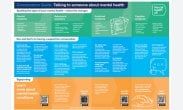 Conversation Guide: talking to someone about mental health
World Mental Health Day might be the first you decide to talk openly about mental health with a friend, family member or colleague. It can be tricky to know how to have that chat, or to find the 'right' words once you do. That's exactly why we've created this conversation guide. We also have a mobile-friendly and printer-friendly version available.
Connect with others on Clic
We believe that no one should be lonely or isolated. That's why we set up Clic – our online community here for everyone's mental health 24/7. Clic helps thousands of people feel more connected and less alone. By offering resources and facilitating a safe environment where people can chat online, Clic gives users the tools to not just manage their mental health, but to thrive too.