How we can use spring to boost our mental health
There's ways we can support our mental health all year round, but how can we use our current environment and the seasons to tailor how we look after our wellbeing? We're exploring some tips on how we can use the arrival of spring to boost our mood and connect with the outdoors and others.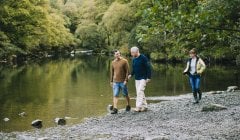 Take notice of your surroundings
In the spring, our environment changes around us. Wildlife emerges, greenery and outdoor spaces begin to flourish again, and the weather is (normally) much more enjoyable. This provides us the opportunity to utilise being outside and appreciate what nature has to offer. There's a difference between simply being outside and going on a walk, than actively taking notice of our surroundings. The art of being able to be fully present and aware in a situation, is also often referred to as 'mindfulness' and we can achieve mindfulness wherever we are. To achieve the sense of being aware and present whilst outside, there's some small but impactful steps we can take.
What's changing around you? Although mindfulness in it's core encourages us to focus on our own bodies, our senses and how we're aware of ourselves, it can also include taking notice of what's around us. Doing so can make us feel calmer and more connected to our environment. In spring we have the ideal opportunity to spot change, from blossoming trees, increased bird song in the mornings, to lighter evenings. Taking the time to reflect on what's changing can also be a fun activity with children. Why not even create your own checklist of natural objects, animals or plants to spot such as daffodils or insects, and tick them off as you take a walk together. There's many ways to explore mindfulness in nature, and you can research different concepts to find one that suits you.
Ground yourself. Grounding yourself is a self-soothing technique that trains the mind to be fully involved in the present moment and reality. It's specifically designed to assist in easing feelings of anxiety and panic, encouraging your thoughts to switch to the here and now. You can ground yourself anywhere, but it can be particularly calming and soothing to practice it outside, and what better time to start than as we approach spring and summer. Once you're comfortably sitting or standing, the fundamentals of grounding yourself revolve around monitoring the five senses, what can you hear, smell, touch, taste and see? It's important not to rush these observations, and enjoy taking the time to fully uncover them. Grounding can also be done by recognising or counting numbers or patterns. Find out more about grounding techniques.
Increase levels of activity and connect with others
We might feel that getting out and about is more appealing as it gets warmer, and doing so is good news for both our mental and physical health. Being active doesn't have to just be going to the gym or on a walk or run. Below are some ways you can get your body moving that might not even feel like traditional exercise. Brighter and longer days also mean we have more opportunity outside of work to socialise and connect with friends and family.
Get green fingered! If you have an outdoor space, gardening is a great to way enjoy being outside and keep active, all whilst being creative. If you don't have access to an outdoor area, there's plenty of volunteering opportunities across the country that will allow you to get involved in gardening or maintenance of outdoor spaces, such as helping out at National Trust or RSPB sites or seeing what opportunities your local council has to offer.
Treasure trails. They don't have to be exclusive to Easter or just for children. Did you know there's free interactive treasure trails up and down the country? The ideal way to explore somewhere, connect with other people and have fun!
Socialise outside. Rather than meeting indoors, when it's nice weather outside, suggest meeting friends or family at the local park, host a picnic or hire some bikes.
Join a club. In the spring and summer we tend to see many clubs or groups reignite their activity. Selecting a group that revolves around something you're interested in, means you get to enjoy and learn more about the activity, whilst having the opportunity to talk to new people and make friends.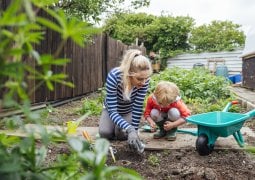 Have a reset
We shouldn't feel pressure to 'spring clean' or 'change' in any way to improve our mental health, however if you're feeling in need of a digital or physical reset to your environment, spring can offer the ideal opportunity to do this. Many of us are aware of the saying 'having a spring clean' meaning changing up our living space, going through our belongings, donating things we no longer need to charity, and generally 'sprucing' up our environment. We don't have to do this to feel better, but we can apply this concept to other areas of our lives to help ourselves feel calmer, such as taking a look at the below themes:
Digital reset. Social media can become consuming for many of us, and whether we're aware we need to spend less time online, or we just want to make sure what we're doing online isn't negatively affecting our mental health, having a digital reset can improve how we feel day-t0-day. Anna, from the team here at Mental Health UK gives us an example of a 'digital reset' she recently undertook; "I realised I hadn't properly evaluated who I was following on my social media accounts for some time. Recently I took the time to go through everyone or every account I followed on my social media accounts, and if they made me feel anything other than 'good' about myself or my life, I unfollowed them! To a certain extent I feel it's really up to us to expose ourselves to things that only make us feel positive online, and now I've done the clear out, my social feeds are just full of things that make me feel warm and happy inside, and nothing else."
Physical reset. Research has shown the physical distraction of a busy environment can increase cognitive activity to a level that may induce stress and anxiety. With busy lives and bigger priorities, it's unreasonable to expect us to always live in an environment that's clutter free, but if you do find yourself with extra time this spring, having a clear out can help you to feel more positive and calm about your surrounding environment. Cleaning also counts as a form of exercise, and releases the hormone 'cortisol' which naturally lessens feeling of stress.
Find out more about the basic elements that form good health and wellbeing all year round on our website.
Your donation will make the difference
Just £10 could help pay for a call to our advice and information line, supporting someone living with mental illness who may be feeling in distress during this time.
Donate today
Join our newsletter
Sign up to our newsletter to keep up to date with our events and appeals. Click 'subscribe' to choose your contact preferences