PureGym partners with Mental Health UK for National Relay
Bringing together colleagues from across the country, PureGym will take part in a 7-day nonstop challenge from Aberdeen to Plymouth to raise £250k for Mental Health UK.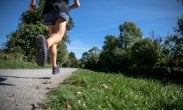 Colleagues at PureGym, the UK's leading gym operator, are coming together as one team to take part in a week-long National Relay from Aberdeen to Plymouth. By partnering with Mental Health UK, PureGym aims to use the event to raise awareness of the importance of physical exercise in managing mental health and raise £250k for the charity.
The PureGym National Relay will bring together over 1,500 colleagues across PureGym's network of 235+ gyms to take part in a 7-day, non-stop relay travelling from Aberdeen to Plymouth via all major UK cities. The Relay comes as PureGym celebrates its 10-year anniversary this year.
The Relay will take place between 18th and 25th June, with PureGym colleagues running, walking and cycling their way across the country. PureGym members are encouraged to support their local gym through fundraising activities, as well as cheering on the team as the Relay passes through their area.
PureGym Ambassador, Sir Chris Hoy, will also be taking part in the Relay, launching it on 18th June in Aberdeen, before joining the final stage of the Relay from Exeter to Plymouth on 25th June.
More people are affected by mental illness in the UK than by cancer or heart disease. People with severe mental illness die on average 20 years earlier than the general population, largely owing to preventable physical health conditions, including diabetes and heart disease .
However, access to regular physical activity can serve as a vital prevention strategy for mental illness. People who do regular physical activity have up to a 30% lower risk of depression, whilst finding they have improved moods, fewer symptoms of stress, and reduced levels of anxiety.
In just ten years we have grown from start-up to market leader with gyms in every major city in the UK and over a million members exercising in a convenient and affordable way across our 230+ gyms.

"We passionately believe in the benefits of regular exercise and remain totally committed to our mission of making gym membership more accessible. There is growing realisation that a healthy life is not just based around good physical health but more needs to be done to encourage people to take care of their mental health and exercise plays a vital role.

"We are absolutely delighted to be partnering with Mental Health UK. The work they do is invaluable, providing practical advice and information to people across the UK. The aim of this relay is to challenge and unite all PureGym colleagues in celebration of the work they do to make the UK healthier and raise money and awareness for a great cause."
– Humphrey Cobbold, PureGym CEO
"The inherent links between good physical and mental health is something that we should all consider in our lives. Even short bursts of light exercise can have a dramatic impact on our mental wellbeing, lifting our moods and making us more alert.

"We're extremely thankful for the support of PureGym colleagues in helping to spread this message, and for their fundraising efforts. We'd like to wish them all the best of luck as they complete this difficult challenge."
– Brian Dow, Managing Director of Mental Health UK
Fundraising has already started at PureGym locations across the country and a running total will be available on a dedicated website for the Relay available here. The website will also include regular updates, as well as a live route tracker, allowing people to follow the progress of the Relay in real time.
Further detail on the Relay, including the proposed route, is available on request.
Media Enquiries:
Teneo – Rebecca Hislaire / Hamish Docherty, 020 7260 2700
Mental Health UK – Patrick O'Brien, 020 7840 3024
About PureGym
PureGym is the UK's leading gym operator providing low-cost and high-quality fitness facilities for over 1 million members spread over 230+ sites. PureGym was launched in 2009 and pioneered the model for affordable, flexible, high-quality fitness clubs in the UK. Members pay monthly and have no contract commitment. Most of its 230+ gyms are open 24 hours a day across the UK and offer a full range of top of the line equipment including cardiovascular equipment, fixed-resistance and free weights.
Each gym typically offers over 220 pieces of fitness equipment and up to 80 group exercise classes each week delivered by around 2,500 personal trainers. In November 2017, affiliates of Leonard Green & Partners, L.P. acquired a controlling interest in the business. The company has received a number of awards and accolades over the last year including appearing in the Sunday Times Virgin Fast Track 100 for the fifth consecutive year and The Sunday Times Top 100 companies to work for.
Your donation will make the difference
Just £10 could help pay for a call to our advice and information line, supporting someone living with mental illness who may be feeling in distress during this time.
Donate today
Join our newsletter
Sign up to our newsletter to keep up to date with our events and appeals. Click 'subscribe' to choose your contact preferences