What it's like to work in mental health support over Christmas
For many workers, Christmas is a time of year for rest and annual leave. However, for people supporting those living with mental illness or experiencing mental health problems, this isn't always the case, and in fact it can be the festive period where support is required the most. We spoke to Cathal, Beth and Monika, Rethink Mental Illness mental health recovery workers, about the impact of their work at this time of year.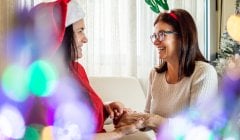 Cathal's story as a recovery worker
"I've worked for the Rethink Mental Illness Gloucestershire self-harm helpline since 2015, supporting people through phone calls, texts and webchats. The support can range from emotional support through active listening, to practical guidance such as making action plans and signposting to relevant services. Our self-harm helpline operates 5pm to 10pm and 365 days a year with no exceptions. This is something that often baffles those I promote the service to, and people are appreciative of the existence of a service, when most tend to close at 5pm or have limited days of operation. While my family and most of my peers tell me they are "off work until January", they greet me with puzzled expressions when I decline invitations for evening festivities, or I need to depart them early. Throughout my years with the helpline, I can remember having shifts on Christmas Eve, Christmas Day, and New Year – although not all in the same year!
Christmas is rarely smooth and stress-free for any of us, and at least when I'm at work I can have a firm boundary in place. The five hours on shift are protected time where I'm not engrossed in planning Christmas trips or organising and wrapping presents, and any job during this period brings the reward of earning rather than spending. My role at the helpline is a much-needed reality check during a time of excess gorging and stress.
"Christmas can be the worst part of a person's year; a time they lost someone or have unhappy Christmas memories from childhood."
– Cathal
"As recovery workers we never know what we'll encounter next. Our callers who have experienced self-harm often have childhood trauma or have experienced other stressors across their lifespan. Christmas can be the worst part of a person's year; a time they lost someone or have unhappy Christmas memories from childhood, for example. As a recovery worker I am there to listen as callers share these experiences and how they make them feel. This requires my own resilience in managing this material, not just during a call but when not on shift also – vicarious trauma and burnout are well-known to those who work in this area, and I'm vigilant of this.
On the helpline we work as a team. We always have a team to be proud of and even when working remotely we're in constant contact with our colleague on shift with us (there are two staff members per night operate the helpline). The depth of knowledge and range of experience in staff mean I never feel isolated, and we're like pillars propping each other up. One thing I am proud of is the helpline's existence making a statement that problems don't just stop over Christmas."
Beth's experience in a care home supporting people living with mental illness
"I've been working in care for the last 25 years and I've worked in a nursing care home for people with mental illness for the last four years. It's important to work over Christmas so that there's continuity of care for the residents. They can find this time of year challenging as they can be estranged from their families and sometimes, we are their families. If they have the continuity, then hopefully they won't feel so isolated, estranged, and undervalued. With the consistency of staff who already know them, they're able to pick up the signs that someone may be struggling and support them.
Working over Christmas can make me feel guilty that I'm not at home, and I can feel isolated as my family aren't around me. I sometimes also feel sad that I'm not able to take part in any of the religious services that my church offers, or take the time to reflect and remember loved ones at this time of year. But, working over Christmas has made me realise that I'm very lucky to have family to go home to, and that they understand why I do the work I do. I also feel I am giving something back to society and making a difference. If I can make someone smile, then I know I have made a difference that day already. I'm keen to continue to support others over the Christmas period, it's part of what I do."
"Residents may find Christmas time a challenging time of the year, as they can be estranged from their families and sometimes, we are their families."
– Beth
Monika's work with people impacted by suicide
"I've been working as a support worker for over three years now, and I work with a range of different people, mainly those who have been affected by suicide. They all have a range of different backgrounds and mental illnesses. I also run a music therapy and women's group service in Harrow, which is a vital support network for the local community. In the past I have worked over Christmas, including during the pandemic, and this year I plan to do the same.
At this time of year, some people feel they want to hide and protect themselves. When I work over Christmas, I'm constantly aware of how difficult it can be for people to find connections and support. Knowing I am around to support people and offer a place where they can feel heard and safe, is a great feeling. Listening is one of the most important skills, be it personally or professionally. To be able to empathize and listen to someone else helps to build trust."
"Christmas can be a time of the year where people are most vulnerable, lonely and feel disconnected from society."
– Monika
"Working in mental health support can be draining and I've learnt to practice daily boundaries to help manage my mental health. There are times when I put too much pressure on myself and I just want to not talk to anyone. I find making sure I allow time to relax, go swimming and practice mindfulness helps me to overcome these stresses. I'm aware that by taking care of myself, I'm more able to take care of others. By looking after my own mental health I'm able to have a more positive impact at work. I'd urge anyone working over Christmas to prioritise themselves and their mental health as number one, and don't be afraid to be honest and ask for help if you need it."
Your donation will make the difference
Just £10 could help pay for a call to our advice and information line, supporting someone living with mental illness who may be feeling in distress during this time.
Donate today
Join our newsletter
Sign up to our newsletter to keep up to date with our events and appeals. Click 'subscribe' to choose your contact preferences